Tayshawn came to Growing Together as an infant at the urging of his great-grandmother. Born to a teenage mother, a village of family and teachers raise and care for Tayshawn. He has lived with his mother and great-grandmother his whole life, with his great-grandfather helping to raise him as well. Tayshawn has experienced much adversity in his short life, but the care of his family and the mission of Growing Together has helped him overcome it.
When Tayshawn turned three, he moved to the Clownfish preschool room and began exhibiting challenging behaviors. He would often hit and kick other children, bite teachers, and could not calm himself down when upset, often resulting in overturned shelves and screaming tantrums. His teachers kept careful record of his behaviors and communicated regularly with his family.
Soon, Tayshawn received an occupational therapy referral to help him learn to control his body and behaviors when upset. His OT recommended speech therapy to help Tayshawn learn to interact with other children and use his words to help him get what he needs. Although Tayshawn has no diagnosis, occupational and speech interventions have proved invaluable to a change in his challenging behaviors.
Tayshawn forged caring relationships with his teachers, who provided a consistent, supportive space and positive male role model, helping him learn to trust those around him. At Growing Together, relationships are at the foundation of learning and development. Teachers maintain solid relationships with families and work with families to get to the root of behaviors and delays in all children with and without disabilities. GTP teachers work to build close relationships with their students to create a sense of trust and support so children may feel safe at school and feel they are able to learn.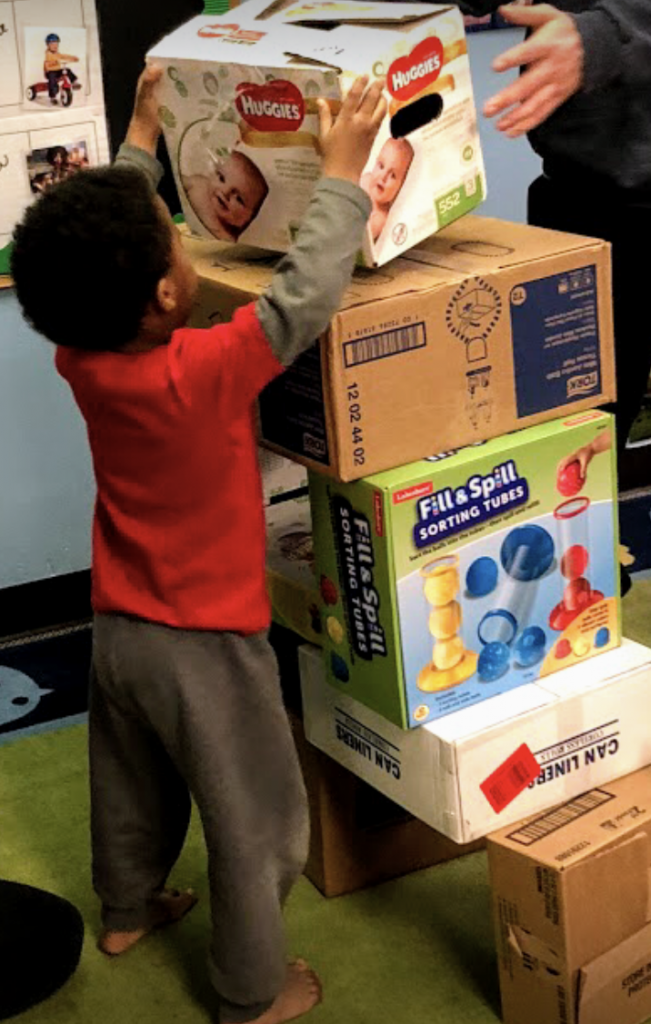 Tayshawn recently turned four. His behaviors have all but disappeared. Tayshawn is able to voice his needs and concerns and interact with other children and adults. Tayshawn has developed resiliency and a positive outlook. He is even able to help friends who are upset find ways to calm down. Every day, Tayshawn tells his teachers he loves them and his teachers tell them how proud they are of him. Tayshawn has worked so hard and is a happy preschooler.
Tayshawn's great-great-grandmother, Ms. Maddie, used to work in the kitchen at GTP. When we heard his story, we knew that he belonged at Growing Together Preschool. Our scholarship program was initiated in 2014 for Tayshawn and has continued to help a dozen children get the high-quality early care, education and therapeutic services they need at Growing Together Preschool every year. Your donation ensures that we can continue to help children like Tayshawn achieve success early in life.